Farm to Fork San Diego
A grassroots group of restaurants, beverage makers, businesses and non-profits that support local farmers and fisher families and a fairer, more sustainable food system.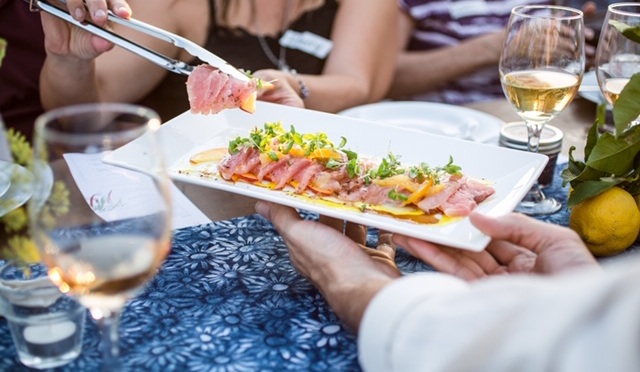 All it took was a handful of restaurants, with hearts full of love for local farmers and fishermen, to come together to support each other and their community. Before we knew it, all sorts of friends and neighbors got involved. #communitynotcommodity
Farm to Fork Week
September 8-15, 2019
A Celebration of Local Chefs, Winemakers, Brewers, Farmers and Friends
Farm to Fork week is your chance to try special drinks and dishes, special menus and special events. What sets Farm to Fork Week apart is our chefs' commitments to sourcing ingredients from local farmers, ranchers and fishermen, friends we know and trust. Then we spend our time verifying that participating chefs and restaurants are, in fact, buying from those local friends.
When you choose to dine or drink at one of our partner restaurants, wineries or bars, or book an event with one of our chefs or catering members, you can rest assured that you're keeping your food dollars in San Diego, you're supporting farming and fishing families and their workers and you're reducing your contribution to greenhouse gas emissions by lowering the number of miles your food travels to your plate.
San Diego County has more small farms than any other US county. It is home to one of the country's oldest fishing industries. And yet our food system frequently relies on imported products, hurting our local economy and increasing greenhouse gas emissions. Our mission is to support, promote and verify local businesses that support San Diego County farmers and fishermen.
Dine, drink or shop with our members or book an event with one of our chefs or catering member. You're helping to save the San Diego fishing and farming economy. You can make a choice, your choice can make a difference.
68%
of San Diego county's over 6000 farms are between 1 and 9 acres.
37%
loss. Between 2012 and 2016, the value of vegetable and vine crops produced in our county dropped from 188 million to 118 million
89%
decrease in fish landed in San Diego since 1950. 1.5 billion pounds of fish down to little more than 165 thousand pounds in 2016.
In a consumer survey in 2018, 58% of shoppers said that locally sourced food was important to them. Farm to Fork SD has seen significant growth in the number of local eating and drinking establishments that have relationships with at least one local farmer or fishermen. Many more San Diego chefs and institutions are moving toward making local food a part of their menu, every day.
Meet our members → Restaurants and Bars, Farmers, Fishermen and Markets, Wineries, Affiliated Businesses
If you eat out, drink out or love having a local food system, you can get involved. Volunteer at one of our member non-profits, patronize our member businesses. Shop direct from local farmers and fishermen. Learn more -> Non-profits, Businesses, Farmers, Fishermen and Markets